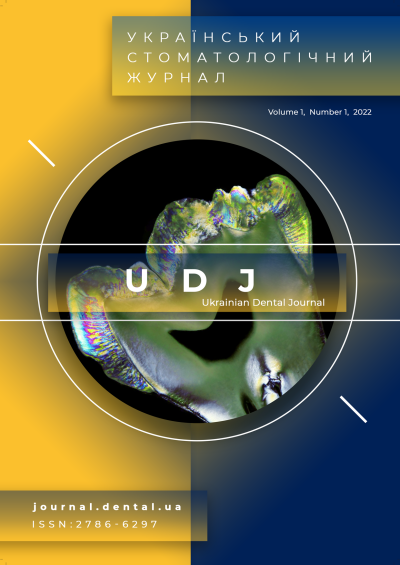 p-ISSN 2786-6297; e-ISSN 2786-6572
Journal Title: Ukrainian Dental Journal
Title abbreviation: UDJ
Certificate of State Registration of Print Media: Series КВ № 25041 - 14981Р from 30.11.2021.
Web-site: Journal.dental.ua
DOI: 10.56569
Frequency: semiannual (March, October)
Manuscript Languages: English, Ukrainian
Published: from the year 2022
Publisher and Founder: Ukrainian Public Scientific Society "Continuing Dental Education"
Professional journal on specialty "Medical Sciences", "Dental Sciences"
Aims and scope: "Ukrainian Dental Journal" is the international peer-reviewed professional scientific publication of open access, focused on indexing in international scientific databases to represent domestic and foreign achievements in the fields of clinical dentistry, preventive dentistry, and maxillofacial surgery, as well as the results of experimental studies in similar fields, general medical and theoretical aspects of the dental profile at the national and international levels.
Journal supports parallel archiving: all numbers are kept in the National library of Ukraine
Editor-in-Chief: Larysa O. Dakhno
Associate Editors: Myroslav Goncharuk-Khomyn
Journal's editorial board includes prominent domestic and foreign scholars consisting from all over the world.
Open-access Statement: "Ukrainian Dental Journal" provides to an open access policy (Diamond Open Access publishing model) on the principle that making research freely available to the public supports a greater global exchange of knowledge. Full-text access to scientific articles of the journal is presented on the official website in the Archives section.
This is in accordance with the BOAI definition of open access. The licensing policy is compatible with the overwhelming majority of open access and archiving policies.
License terms: Authors retain copyright and grant the journal right of first publication with the work simultaneously licensed under a Creative Commons Attribution International CC-BY, that allows others to share the work with an acknowledgement of the work's authorship and initial publication in this journal.
Publishing Ethics: he Editorial Board of the journal acts in accordance with the generally accepted ethical provisions and rules of the Committee on Publication Ethics (COPE), Budapest Open Access Initiative (BOAI), Berlin Declaration on Open Access to Knowledge in the Sciences and Humanities, The Publishing Ethics Resource Kit (PERK)